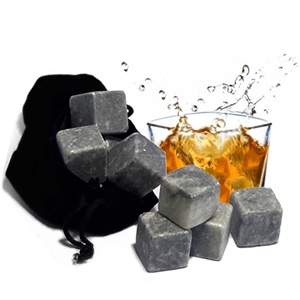 Whiskey Stones Gift Set – Chill Your Liquor Without Watering it!
9 Handcrafted Whiskey Rocks In An Elegant Pouch – Preserve the Taste of Your Whisky or Bourbon By Using Whiskey Rocks – Surprise Your Friends With This Original Gift Set
by Yvento
Today's Price:
Rating:
Availability:
Fulfilled by Amazon – Usually Ships in 24h
[social_share/]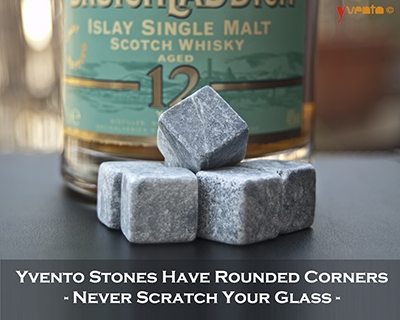 Do Not Let Water Dilute The Taste Of Your Precious Liquor – Use Whiskey Stones!
Do you not have your whiskey stones yet? Hurry up! Everyone wants to have their set. Whiskey stones are handcrafted cubes of natural soapstone, a material that is an excellent keeper of the temperature. After some hours in the freezer, they chill your whiskey, bourbon or whatever drink you want to enjoy cold but not diluted. Soapstone is taste-less and can be reused as many times as you want, they do no change their behaviour, they are rocks!
Add A Touch Of Sophistication In Your Whiskey Tumbler
On top of allowing to enjoy the pure taste of the drink, people love them because they are really cool, whiskey rocks turn any glass into a very stylish tumbler. In addition to their ability to chill the whiskey and preserve its taste, the stone ice cubes add an appearance of sophistication to your whiskey tumbler. They make every drinking moment very special. Are you looking for a unique gift set? Offer our whiskey rocks, they come inside a nice box that includes the 9 rocks and a muslin bag. Your friend will get a lifetime gift.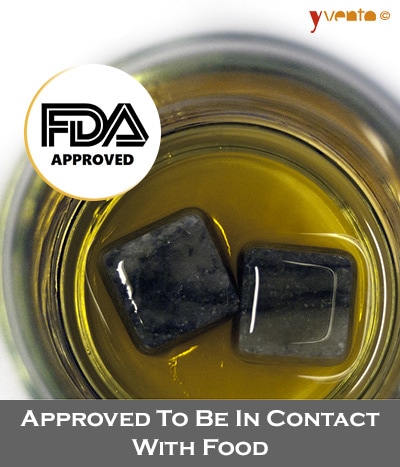 Wondering How They Work?
The first time, rinse the whisky stones under the tab for a few seconds, put them in the freezer in their pouch for at least 4 hours and that´s it, they are ready to use. Two or three rocks are enough in a glass of about 90ml. Each stone have the edges rounded to avoid scratching the glass. Later on, you can keep them always in the freezer, ready for anytime. A friend has come home suddenly? Are you tired after a long working day? Take a beautiful tumbler, choose your best Scotch or any drink you love, add your cool stone ice cubes and enjoy the moment.
The whiskey stones chill your precious liquor for about 30 minutes without watering it down.
Add an elegant touch to your Irish or Scotch tumbler while you enjoy your liquor to the last drop!
Yvento only uses natural Soapstone: the only material which comes in contact with your drink and does not change its taste.
It is non-porous and taste-less. Due to its high density, it holds the temperatures much longer than granite or marble.
You Get More Than Expected..
In addition to cooling other drinks such as cocktails, white wine, non-alcoholic drinks, etc.

These rocks can be heated in the microwave to warm up hot drinks like coffee or tea

.
Every Yvento stone has smooth edges which won't scratch your porcelain or fragile material.
The 9 soapstone rocks come with a muslin pouch, the perfect storage until your next use. The complete gift set is protected in an elegant box.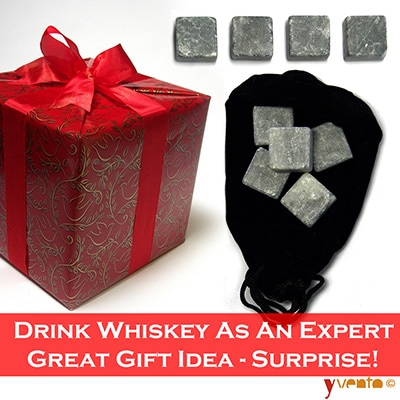 Surprise Your Friend With This Cool Whiskey Rocks Gift Set!
Whiskey lovers do not want to hurry up, it is not about being thirsty, it is about delight and experiencing the drink. These ice rocks contribute to that special moment. As we believe, everything is in the details. Our whiskey stones are the perfect gift, no matter if it's a "hard-to-buy-for" man or a young drinker looking for something innovative. The complete set -the stone ice cubes and the pouch- are packed in a stylish package. Due to their power to be used with hot drinks, this is also a unique gift for coffee or tea lovers, they can put the stones in the pouch and take them to their work and keep the coffee warm during their long meetings.
These stone ice cubes are quite unknown yet and they will surprise your partner and your friends. This is a gift set that they do not expect, hurry up, be the first to offer it! Make a lifetime purchase today, our whisky stones are completely reusable, they will not loose their chilling power.
Yvento Wiskey Stones are exclusively sold on Amazon. We want to offer to our customers the most reliable purchase experience. Easy process, fast delivery, eligible for Free Super Saving Shipping and safe refund. We care of our customers and want to give them total satisfaction.
Click the Buy Button Now and Enjoy Every Drop of Your Next Whiskey!
---
Product Details
Material: Natural soapstone.
Shipping Weight: 8 ounces.
Brand: Yvento
At A Glance
Natural Soapstone Rocks will chill your precious liquor for about 30 minutes without watering it down.
The 9 Soapstone Rocks come with a muslin pouch, perfect to store it in, until your next use.
Add an elegant touch to your Irish or Scotch glass while you enjoy your drink to the last drop!
Our Whisky Stones can also be used to warm up hot drinks like coffee and tea.
These modern stone ice cubes are a very original gift set that will surprise your friends.
---
Whiskey Stones Customer Reviews
 Good for more than whiskey! By Hannah I first used the stones to cool down some green garbazno beans I was blanching. They worked very well in terms of cooling down the water. I then had them in my whiskey. I like my whiskey straight and cold, so these were perfect for me. They are very beautiful stones too. I wish they were a little larger so I didn't have to use so many at once. You have to be careful about not freezing them wet!
 Great for other uses, too! By Ben and Naomi I am not a drinker, but I used these stones in my hot tea! They retained the heat amazingly and kept my tea warm for much longer than usual. And I love the way the stones were packaged. The little black drawstring bag added a nice touch and makes it a great item for gift-giving! One more thing… I put a few stones in the freezer, and grabbed a few when my daughter needed an icepack for her injured knee. We gently rubbed them on her knee for a while, and they "iced" her injury without all the melty mess! Hmmm, these stones have multiple uses! Great product… thank you!
 No ice required By km They work perfectly well, stay cold much longer than expected. It is excellent to cool down the wine without making it watered as water cubes. At the beginning I thought they were a bit small but it is better like this, they take few space in the glass and also in the freezer. They are soft colored and elegant, really cool for a party with friends. This is a really neat alternative, I would definitely recommend it!
Yvento Whiskey Stones model number: y0102