Wine Chiller Stick with Wine Aerator and Pourer with Stopper

Unique Wine Cooler, Forget the Ugly Wine Sleeve or Bucket – Fits in Every Wine Bottle – 4 in 1 Chiller, Aerator, Pourer and Stopper – Ideal for Wine Lovers – Iceless! – Great Gift for Men or Women
by Yvento
Today's Price:
Rating:
Availability:
Fulfilled by Amazon – Usually Ships in 24h
[social_share/]
Your Wine Ready For The Last Minute Celebration! Use the Yvento Wine Chiller Stick and Wine Aerator
A friend comes suddenly at home… you want to celebrate your sport team victory… and you want to open a good wine and drink it at the right temperature: you have your Yvento Wine Chiller in the freezer, waiting for a celebration, a dinner or the last glass of the day. Your wine will be chilled in about 10-15 minutes, much faster than in the fridge.
The stainless steel stick contains inside hermetically a non toxic gel that keeps the low temperature for hours.
Drink Your Wine at the Right Temperature But Also Be Elegant!
Tired of the ugly wine cooler sleeve? the Yvento Wine Chiller Stick is elegant and adds a touch of sophistication to your table.
No need to look for space for the bulky dripping wine bucket… the chiller is inside the bottle! keeping the wine cool for up to 2 hours and full of taste.
The Yvento Wine Chiller is made of stainless steel and the Wine Aerator is made of FDA certified food-save plastic.
The stick has smooth edges, it is easy to handle and simple to clean, just rinse it under the tap.
Get more in the same piece…


The Yvento Wine Chiller includes a Wine Aerator that enhances the taste when pouring the wine. It is nice designed and helps to pour the wine in the glass while is aerated.
The wine aerator mixes air into the wine as it flows through, what increases the exposure to oxygen and opens up the wine aromas. In general, most wines will improve after aeration, also whites.
Wine is made up of hundreds of compounds, and with aeration, usually the volatile undesirable compounds will evaporate faster than the desirable, aromatic and flavorful ones. There are a few particular compounds that are reduced with aeration, such as sulfites, which are added to wine to prevent oxidation and microbial activity.
It comes also with a Wine Pourer with Stopper to avoid the last drop on the tablecloth. The perfect Wine Accessory!
Surprise Your Friend With This Unique Way To Cool Your Wine In Minutes!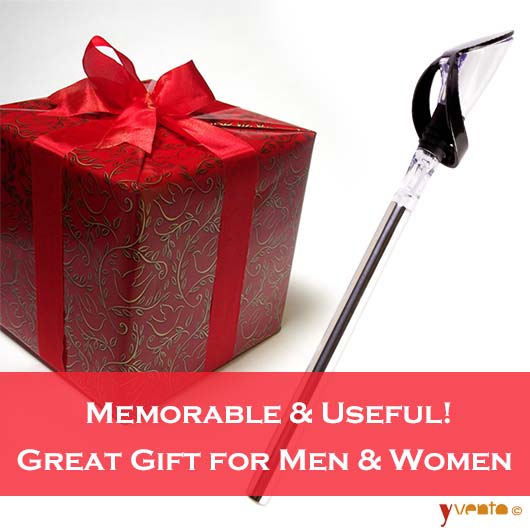 Our Wine Chiller Sitck and Aerator is a UNIQUE GIFT for wine lovers and not only! The stick is packed in a colorful box and it is an original gift for a man or woman, surprise them with this original invention!
The Wine Chiller Stick is quite unknown yet and it will surprise your partner and your friends. This is a gift that they do not expect, hurry up, be the first to offer it!
The Yvento Wine Chiller and Aerator is exclusively sold on Amazon. We want to offer to our customers the most reliable purchase experience. Easy process, fast delivery, eligible for Free Super Saving Shipping and safe refund. We care of our customers and want to give them total satisfaction.
Make a LIFETIME purchase today, the Yvento Wine Chiller with Aerator is completely reusable, it will not loose its chilling power.
Click the Buy Button Now and Enjoy Your Chilled Wine In Minutes!
---
Product Details
Material: Stick of stainless steel and aerator of FDA certified food-save plastic.
Shipping Weight: 4 ounces.
Brand: Yvento
At A Glance
Chill your white or rose wine in minutes and keep it at your desired temperature.
The chiller stick incorporates a wine aerator that enhances the taste when you pour the wine.
No more need of bulky dripping buckets on the table or ice in your freezer. It saves you space and it is very elegant.
It fits in all standard wine bottles and it is completely reusable, it will not loose its chilling power.
The stick is packed in a colorful box and it is an original gift that will surprise a man or a woman.
---
Yvento Wine Chiller with Aerator Customer Reviews
It came well packed in a nice box! Ideal to cool a bottle of wine By Lara May – I received the Yvento wine chiller some days ago. It came well packed in a nice box. The stick looked ideal to cool a good white wine, so I put it in the freezer and tried it during the dinner. My husband was amazed with such a clever device :-) We have used it several times from then. It works perfectly well and maintains the wine cold before we finish it. The stainless steel is a bit heavy, it looks like a good gift. I recommend it!
Awesome packaging & great gift By Yuen Tung – Awesome packaging & great gift. The wine-lover boss of mines really liked this. She is the type that opens up a bottle of wine at every dinner, and when I gave it to her as a gift, she was extremely excited. She recently told me she found this to be very useful
Love it! By Natasha Sloup – Received this extremely quick..its actually a bit larger than I had anticipated but that's not a horrible thing at all..I love the sleek stainless steel look it has. After freezing for a couple hours I decided to try it out on an unchilled glass of wine and much to my surprise it chilled it extremely fast..i think this is a great gift for wine lovers everywhere..I am super pleased with this purchase..would recommend the seller and product for sure.
Yvento Wine Chiller with Aerator model number: y0103